Happy Mid-Summer! Whew! The heat of summer is upon us, and it has been quite the hectic paced market. Wrapping up the 2
nd
quarter and rolling right into the 3
rd
quarter, Boulder County real estate is showing some definite positive trends. There are positive signals for increased numbers of successful sales (in both homes & condos/townhomes), a decreasing number of days on market, and noticeable increases in both average and median sold prices. So perhaps the tide is turning a bit, as prices are rising and interest rates on mortgages are increasing. Will these factors slow our local market at all? Regardless, it is apparent that more people are indeed re-locating to Boulder County as there are lower than state-average unemployment rates and lower than average vacancy rates on the rental side of things. Boulder County is indeed an amazing place to live, work and play and our real estate market is showing health and strength once again. I will continue to do all that I can to stay in front of the newest properties on the market and "Coming Soon" properties, as well as continue to monitor local market statistics. Please keep in touch if I can assist with your Boulder County real estate needs.
AVERAGE INVENTORY
AVERAGE INVENTORY - 
The number of new homes on the market has been very low (very noticeable from 2010 & 2011 highs) and lacking in many price points and locations throughout Boulder County. This one statistic has created multiple offers/bidding wars for new on the market properties within certain price points and neighborhoods. The lack of inventory has also created some very frustrated buyers who wish to buy but have been "losing out". Right now is the busiest time of year with typically the most properties for sale, and it just feels like "slim pickings" out there still.
QUANTITY OF HOMES SOLD
QUANTITY OF HOMES SOLD -  With fewer properties on the market overall, sales volume is still holding strong at the end of 2nd quarter 2013 and in-line with increased sales from end of 2nd quarter 2012. For Boulder proper, we have seen ~19% increase in condo/townhome sales (2nd quarter 2012 vs. 2nd quarter 2013). Deals are definitely getting done!
DAYS TO CONTRACT
DAYS TO CONTRACT - Not much to sell, but with more selling this means the pace is FAST! Across the board throughout the Boulder County communities in both houses and condos/townhomes the days to contract are seeing dramatic decreases. Boulder houses saw a 52% decrease (67 days to contract in 2nd quarter 2012 vs. 32 days to contract in 2nd quarter 2013). Buyer demand is exceeding seller supply and contracts are having to be written cleanly and quickly after typically only 1 showing at a property.
AVERAGE SOLD PRICE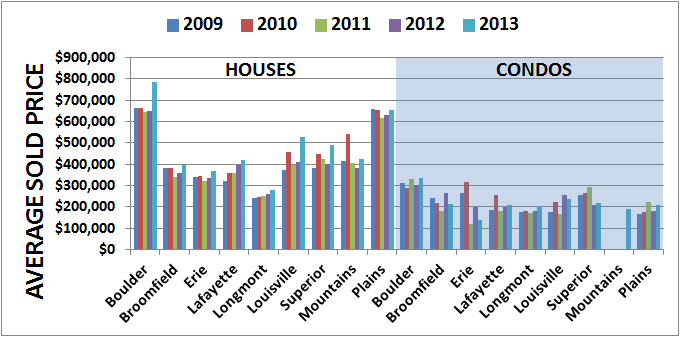 AVERAGE SOLD PRICE - Sales prices are climbing! All over Boulder County we are seeing increases in the Average Sold Prices for both houses and condos/townhomes. Single-family houses in Boulder proper saw some tremendous gains (~21%) in average sold prices 2nd quarter 2013 up to ~$788,000 vs. 2nd quarter 2012 at ~$649,000, as more higher priced homes successfully closed. Also worth noting, Louisville houses saw a ~29% increase in average sold prices up to ~$529,000 in 2013 vs. ~$409,000 in 2012.
MEDIAN SOLD PRICE
MEDIAN SOLD PRICE - Values are rising! All Boulder County communities have seen increase in their median sold prices for homes 2nd quarter 2012 vs. 2nd quarter 2013. Boulder homes have seen a ~18% increase from ~$560,000 in 2012 vs. ~$663,000 in 2013 and Superior houses have seen a ~21% increase from ~$362,000 in 2012 vs. $$441,000 in 2013.